Spreading Holiday Cheer with our Christmas Email Templates
Our Christmas newsletter templates are great to craft wonderful Christmas campaigns fit for any device. Edit these HTML templates in our drag-n-drop editor without even touching the code. These Christmas email templates are fully integrated with Mailchimp, HubSpot, SalesForce, Marketo, and other ESPs.
The holiday season is a time for joy and celebration. For businesses, it's an opportunity to connect with customers and clients. One way to do this is through a well-crafted Christmas email campaign. With the right Christmas newsletter templates, you can spread holiday cheer while promoting your brand and encouraging sales.
Why Christmas Email Templates are Important
Email marketing is an effective way to reach customers and promote your brand. However, during the holiday season, competition is fierce, and inboxes are overfilled with promos. That's why it's essential to stand out from the crowd with a well-designed and personalized Christmas email campaign.
Using Christmas email templates makes the process easier and more efficient. Templates provide a framework that you can customize to suit your brand and message, saving time & effort. Moreover, templates are designed to be visually appealing and engaging, which helps capture the audience's attention.
Who May Find Christmas Newsletter Templates Useful
Christmas email templates are useful for any business that wants to capitalize on the holiday season. However, some businesses may find these email templates especially valuable. For example, retailers & ecommerce can use Christmas email templates to promote holiday sales and special offers. Non-profit organizations can use templates to promote holiday giving campaigns. Service-based businesses can use templates to thank customers for their business and wish them happy holidays.
Tips for Writing Copy for a Christmas Email
No one likes trite constructions and congratulations when it comes to Christmas greetings. So, when it comes to writing copy for your Christmas email, keep these tips in mind:
Be festive but authentic. Use holiday-themed language and imagery, but make sure it's consistent with your brand's voice and values.

Keep it concise

. People's attention spans are shorter during the holiday season, so keep your message short and to the point. No one will spare enough time to read a foot-long text in a Christmas email.

Use a clear call to action

. Whether you're promoting a sale or encouraging donations, make sure your email has a clear and compelling call to action.
Spread Holiday Cheer with a Christmas Email Signature
During the holiday season, why not add a touch of festive spirit to your email communication? Enhancing your messages with a Christmas email signature is a delightful way to leave a lasting impression. Consider these creative ideas for crafting the perfect holiday signature for your Christmas newsletter templates:
Warm greetings

. Begin with heartfelt holiday wishes, such as "Wishing you a Merry Christmas" or "Season's Greetings," to create a welcoming tone.

Festive colors and images

. Use Christmas-inspired colors like red, green, gold, or silver. Include small icons like snowflakes or ornaments, keeping them subtle to maintain a professional appearance.

Typography and fonts

. Experiment with decorative fonts to evoke holiday charm. However, prioritize legibility to ensure readability.

Holiday icons and social media links

. Add tiny Santa hats, candy canes, or holly leaves for a dash of Christmas spirit. Include themed icons linking to your social media profiles.

Promote seasonal offers

. Showcase special promotions or discounts with a call-to-action button or hyperlink, directing recipients to your exclusive Christmas deals.
Remember, strike a balance between festivity and professionalism. Let your Christmas email signature reflect your brand identity without overshadowing the email's content.
Tips for Designing a Christmas Email
Design is critical for creating an engaging email campaign. Here are some design tips to keep in mind while building your Christmas email template:
Use holiday-themed imagery

. This includes images of Christmas trees, ornaments, Santa, snowmen, and other holiday decor.

Choose a color scheme that reflects the holiday season

. Red, green, and gold are classic Christmas colors. Don't be afraid to play with the shades, but don't go overboard with it. There's no need to use acid shades.

Make sure the email is mobile-friendly

. Many people look through their emails on their mobile phones and tablets, so your Christmas email template should look great on mobile devices.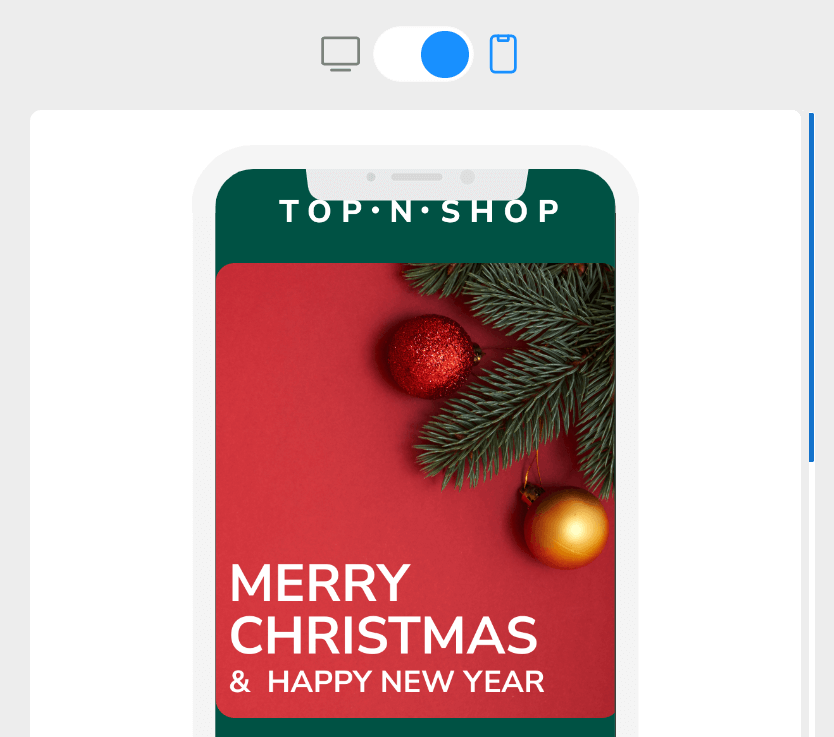 Mistakes to Avoid When Creating Christmas Email Templates
We're all humans and mistakes are a part of our life. But it's always better to learn from someone's mistakes instead of your own. So here is a list of several common mistakes to avoid when creating Christmas email templates:
Being too salesy

. While it's important to promote your brand and products, don't be too pushy. Instead, focus on building a relationship with your audience.

Neglecting personalization

. Use the recipient's name in the email, and segment your list based on demographics and behavior to provide more personalized content.

Sending emails too late

. To ensure maximum impact, start your Christmas email campaign early, ideally in November or in the first week of December.

Overloading the email template with decorations

. Using recognizable imagery is suitable and fine, just don't turn your Christmas email template into a blistering monument. Always remember one principle "If you think that you need to add some more details to finish the work, don't do it. There's already enough details in it."
When to Prepare Your Christmas Email Campaign
To ensure your Christmas email campaign is successful, it's essential to start preparing early. Ideally, you should begin planning your campaign in September or October. This gives you enough time to design & build your Christmas email templates, write copy, and develop a marketing strategy. It also allows you to test and optimize your emails for maximum engagement.
Conclusion
Christmas email templates are an effective way to spread holiday cheer while promoting your brand and encouraging sales. By following these tips for writing copy and designing your Christmas email, you can create a campaign that engages and delights your audience. Remember to start early, personalize your content, and focus on building a relationship with your customers. With the right approach, your Christmas email campaign can increase your rates and even stay in the memory of people.