Tips for a Successful Spring Email Campaign with Blocks
The changing of seasons offers a unique opportunity to revamp your marketing strategy, making it fresh and vibrant like the spring season itself.
Here, we'll provide you with the building blocks of a successful spring email campaign – from compelling subject lines to the design aesthetics of your spring email template.
The Influence of Spring in Email Marketing
Seasonality plays a significant role in marketing. By aligning your emails with the current season, you're demonstrating your brand's relevance and responsiveness. Here are three crucial reasons why spring email campaigns can prove beneficial:
Boost engagement

. People often come out of their winter hibernation during spring, ready to explore and engage. Emails themed around spring can tap into this increased enthusiasm.

Promote seasonal products/services.

Spring could be an opportune time to market certain products or services. For instance, an eCommerce business could showcase spring apparel, gardening tools, or outdoor gear.

Celebrations and events

. Spring is a season filled with celebrations like Easter, Mother's Day, and Earth Day, which are great occasions to build your campaigns around.
Crafting Irresistible Spring Email Subject Lines: 15 Ideas for Inspiration
The subject line is your first impression. It needs to be enticing enough to make subscribers open the email. Here are 15 examples of catchy spring email subject lines:
"Spring into Savings: Huge Discounts Inside!"

"Blossom with Our New Spring Collection!"

"Fresh Deals for a Fresh Season!"

"Unearth Spring Savings Today!"

"Leap into Spring with our New Arrivals!"

"Spring Forward with Our Exclusive Deals!"

"Refresh Your Style this Spring!"

"It's Spring Cleaning Time: Out with the Old, In with the New!"

"Shake Off Winter with Our Spring Fitness Plan!"

"Wake Up Your Wardrobe with Our Spring Essentials!"

"Spring Fever? We've Got the Cure!"

"Celebrate Mom in Style with Our Mother's Day Specials!"

"Our Earth Day Pledge: Going Green Has Never Been Easier!"

"Get Your Home Spring-Ready with Us!"

"Start Fresh: Explore Our Spring Menu Today!"
Components of an Effective Spring Email
An effective spring email consists of a few key components:
Visual elements

: Use images that evoke spring, like flowers, birds, or outdoor activities. The more visually appealing your email, the higher the chances of engagement.

Color palette

: Embrace the season's color palette—think pastels like pink, blue, green, and yellow.

Content

: Make your content relevant to the season. It could be spring cleaning tips, a new spring product line, or a spring sale.

Personalization

: Tailor your content to individual customer behaviors. Personalized emails tend to have higher engagement rates.
Using Blocks to Create your Perfect Spring Email Template
Blocks, our versatile drag-and-drop email builder, simplifies the process of creating a visually stunning and effective spring email template. Here are some steps to follow:
Choose a template. Blocks offers a variety of templates. Choose one that aligns with your spring theme.


Add content

: Incorporate your spring content. Whether it's promoting a spring sale or sharing helpful spring tips, make sure it's engaging and valuable.

Review

: Always preview your email before sending it out. You may also send a few test emails to make sure everything works fine. 
10 Spring Email Campaign Best Practices
Creating a spring-themed email campaign requires a deep understanding of your audience and a knack for crafting content that resonates with the season's vibe. Here are ten content ideas for your spring email campaign, each supported by a detailed explanation and a universal example:
Promote a Spring Sale: Spring is a time of renewal and rebirth, making it a perfect opportunity for a sale. Promote discounted items or services tied to spring. Example: "Our annual Spring Sale is here! Enjoy 30% off our entire spring collection."
Take a look at this spring email campaign promoting a seasonal sale by Season Equipment:

Share Spring Cleaning Tips

: Spring cleaning is a universal concept that can be adapted to suit your industry. Example: "Here are our top 10 spring cleaning tips to refresh your home office."

Celebrate Earth Day

: Earth Day is an opportunity to emphasize your brand's commitment to sustainability. Example: "Join us in celebrating Earth Day. Learn how our products contribute to a sustainable future."

Easter Celebrations

: Engage your audience with an Easter-themed campaign. Example: "Egg-citing Easter Deals! Save big on our Easter Specials."

Honor Mothers

: Celebrate Mother's Day by making your customers' gift shopping easier. Example: "This Mother's Day, gift your mom the care she deserves with our curated gift guide."

Highlight Spring Products:

If your business offers products or services that are seasonally relevant, now's the time to promote them. Example: "Experience the freshness of spring with our newly launched line of floral scented candles."
Here's an awesome example of spring email template promoting spring products by Athletic Brewing: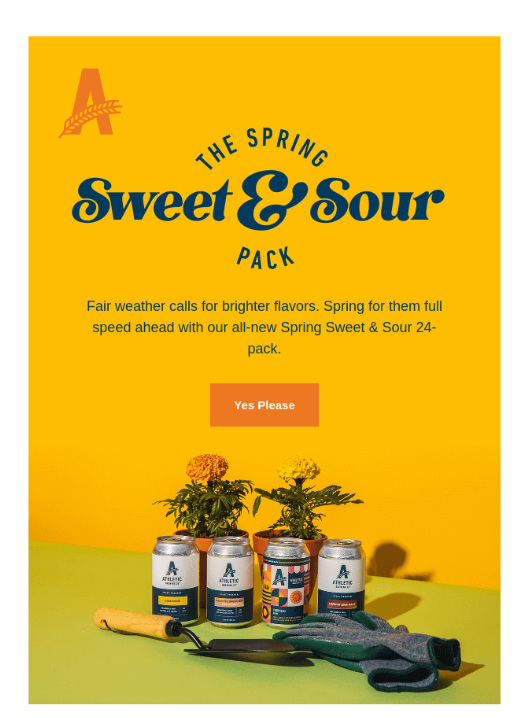 Outdoor Activities: As people venture outdoors in spring, promote products or services relevant to outdoor activities. Example: "Get back to nature this spring with our durable outdoor camping gear."
That's how Kampgrounds of America promote outdoor activities in their spring email campaigns:

Health & Fitness

: Spring often motivates people to get fit. Promote your health and fitness products, or offer advice on spring fitness routines. Example: "Spring into fitness with our newly designed yoga mats."

Spring Recipes

: If you're in the food industry, share recipes that use fresh spring produce. Example: "Savor the taste of spring with our delightful Asparagus and Pea Risotto recipe."

Spring Travel

: Highlight spring vacation ideas and offer travel deals to entice potential travelers. Example: "Escape into spring! Discover our exclusive travel packages to the world's most beautiful springtime destinations."
Key Takeaways
With the freshness of spring, it's time to rejuvenate your email marketing efforts. By utilizing compelling spring email subject lines, aligning your campaign with spring themes, and using a no-code builder like Blocks to create beautiful emails, you can deliver a refreshing and engaging customer experience.
Ready to give your email campaigns a fresh spring makeover? Start crafting your stunning spring emails with Blocks today! Happy Spring Email Campaigning!