Honor Our Heroes: Captivating Veterans Day Email Templates
Our free Veterans Day email templates are waiting for you to give them a try. Check out our ready-to-use email templates: we've done all the work for you. These templates are fully integrated with different ESPs, such as Mailchimp, HubSpot, SalesForce, Marketo, and etc. No coding required.
Veterans Day is a special day dedicated to honoring the men and women who have served in the United States Armed Forces. As a business owner or marketer, you may want to send out an email to show your appreciation for our nation's veterans. In this article, we'll provide you with some email templates that you can use to express your gratitude and support.
Ideas of Email Templates for Veterans Day 
Note: use our email template to create the best Veterans Day email campaign in just a few minutes! You can customize it in our drag-n-drop editor and send to your email subscribers! Let us share with you several ideas of what you can include in your Veterans Day email template. 
Idea 1: Thank You For Your Service 
Use this email to take a moment to express your deep appreciation and gratitude for veterans' service to the country. Thank them for their dedication and service and share your support initiatives: thus, you'll show your subscribers that your values align with theirs and be able to foster subscriber loyalty. 
Idea 2: Veterans Day Discounts and Deals
Offer veterans a special discount or your best deals. Your email copy may look like this:
Dear [Recipient],
As a small token of our appreciation for your service to our country, we would like to offer you a special discount on our products/services. We hope that this discount will be a small way for us to say thank you for all that you have done for us.
Please use the promo code [CODE] at checkout to receive [DISCOUNT]% off your purchase. This offer is valid until [DATE].
Thank you again for your service, and we hope that you will take advantage of this special offer.
Idea 3: Sharing Your Story
On Veterans Day, you may honor the men and women who have served in the Armed Forces by asking subscribers to share their stories with our community: thus, subscribers will tell you about your experiences, your challenges, and accomplishments. Your email copy might look like the following:
If you are a veteran or know someone who is, we would be honored to share your story on our blog/website/social media. Please email us at [EMAIL] with your story, along with any photos or videos that you would like to share.
This is a good opportunity to use user-generated content to promote your values, draw attention to your brand in Veterans Day emails, and pay respect to the veterans. 
These ideas for Veterans Day email templates can help you express your appreciation and support for veterans. Use them as a starting point to create your own personalized message and show your gratitude to those who have served our country. 
8 Tips to Keep In Mind When Sending Veterans Day Email Templates
Be sincere and authentic:

Your message should come from a place of genuine appreciation and respect for our veterans. Avoid using overly generic language or making empty gestures. 

Keep it simple and to the point:

A brief and straightforward message will be more effective than a lengthy one that includes too much detail or too many calls to action.

Don't make assumptions & be careful

: Not all veterans may feel comfortable or want to be acknowledged on Veterans Day. Respect their wishes and don't assume that everyone wants to be recognized.

Always include a call to action:

If you're offering a discount or promotion, make sure to include a clear and prominent CTA that directs recipients to take advantage of the offer.

Offer value:

Many businesses offer special discounts or promotions for veterans on Veterans Day. This can be a great way to show your appreciation while also driving sales.

Use compelling visual elements:

Eye-catching graphics or images can grab the recipient's attention and make your email more engaging. Consider using patriotic colors or images that evoke a sense of national pride. Our Veterans Day email template is a good example of a patriotic and eye-catching email design.

Highlight your products or services

: Make sure to showcase your products or services that are relevant to the holiday. For example, if you sell patriotic merchandise, emphasize how the items are perfect for celebrating or honoring veterans.

Create mobile-friendly emails: Mobile-friednly approach is absolutely necessary for email design. If you want to create responsive email templates for Veterans Day, use the Blocks email editor: all of our email templates are optimized for desktop and mobile devices alike.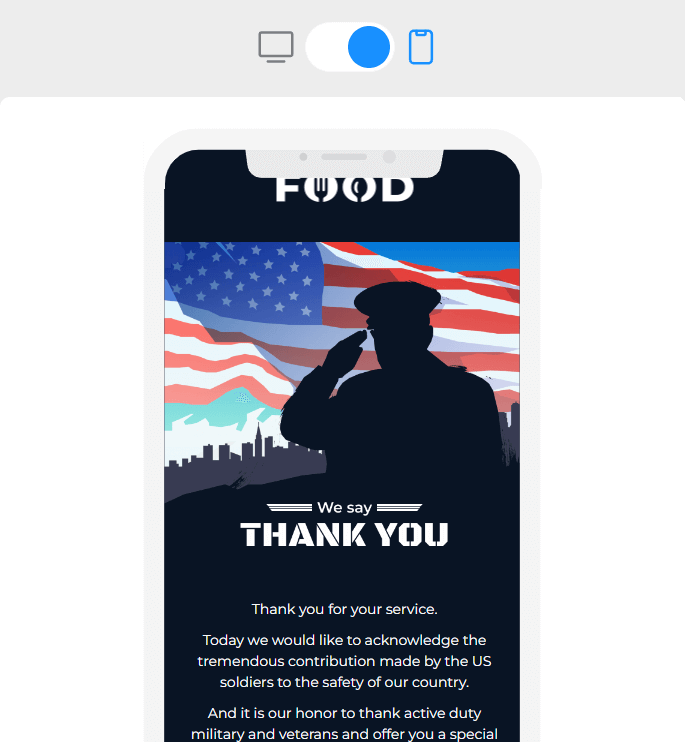 Conclusion
While it's important to express gratitude and appreciation for veterans on Veterans Day, some businesses may also want to use this holiday as an opportunity to increase sales. Here are a few tips for brands who want to use email marketing to boost sales on Veterans Day:
By following these tips, brands can use email marketing to both express appreciation for veterans and increase sales on Veterans Day. However, it's important to strike the right balance between honoring the holiday and promoting your business in a respectful and tasteful way.