Blocks: Elevating Your Construction Email Game
In the dynamic realm of the construction industry, timely and clear communication forms the bedrock of success. Amidst blueprints, site plans, and project timelines, construction emails serve as crucial connectors, streamlining conversations and decision-making. Enter construction email templates: a time-efficient, consistent, and effective way to handle your construction communication.
The Art of Email Construction
Email construction in the construction industry goes beyond writing; it's about structuring an effective, comprehensive, and professional message. Here's a deeper look into the elements of a well-constructed email:
Subject line

. The importance of a clear, direct subject line can't be overstated. It gives the recipient an instant idea about the email's content, thus setting their expectations. A well-crafted subject line can lead to higher open rates, ensuring your message doesn't go unnoticed in the recipient's inbox.

Greeting

. Every email should begin with a professional greeting. This not only sets a respectful tone for the rest of the email but also personalizes the communication, adding a touch of warmth to it.

Body

. The email body houses the primary information. It needs to be concise, clear, and well-structured, containing all necessary information without overwhelming the reader. The usage of bullet points or numbered lists can improve readability, and a call-to-action can direct the reader towards the next steps.

Closing and signature

. Concluding your email with a courteous closing and

your signature

can leave a positive lasting impression. It also provides your contact information, facilitating further conversations.

Attachments

. Relevant attachments, like blueprints, site images, or legal documents, should be added in a format that's accessible across all devices. Remember to mention these attachments in your email body, ensuring they don't go unnoticed.
Building a Construction Email Template with Blocks
Blocks, a powerful drag-n-drop email builder, simplifies the process of creating construction email templates. Here are five reasons why Blocks is a game-changer:
User-friendly Interface: Blocks sports a simple, intuitive interface where you can drag and drop various elements, making the template creation hassle-free.


Customizable Fields

: With Blocks, you can tailor each aspect of your email template, from font types and colors to layouts, aligning with your brand's identity.

Responsive Design: Blocks ensures your templates are mobile-friendly, so they look and function great on all devices.


Template Library: Blocks offers a library of pre-built templates, which you can use as a starting point and customize to fit your needs.


Collaboration Features

: Blocks allows multiple users to work on a template, fostering teamwork and reducing the turnaround time.
10 Email Campaign Ideas for a Construction Company
Email campaigns can help a construction company strengthen relationships with clients, attract new customers, and enhance its brand reputation. They're a way to share updates, showcase expertise, and provide value to your audience. Here are ten email campaign ideas, complete with tips and examples, for a construction company:
Project updates

: Regularly sharing the progress of ongoing projects keeps clients in the loop. A weekly or monthly update, complete with pictures, can make clients feel involved and appreciated. For instance, "Our Crew at Work: Week 4" could feature images of the construction process, a brief overview of the work done, and plans for the coming week.

Educational content

: Share blog posts or articles that provide valuable insights into the construction industry. This could cover topics like new materials, technologies, or regulatory changes. For example, an email titled "The Rise of Sustainable Building Materials" can demonstrate your commitment to environmentally-friendly construction.

Success stories

: Highlight completed projects as case studies. Show the before and after pictures, the challenges faced, and how your company overcame them. This can help potential clients visualize what you can do for them. A subject line like "From Blueprint to Reality: The ABC Plaza Story" can intrigue recipients to open the email.

Client testimonials

: Share positive reviews or testimonials from satisfied clients. It's a powerful way to build trust with potential clients. A testimonial email could have a title like, "See What Our Happy Clients Are Saying!"

Company news

: Update your audience on any new developments within your company. This could include new hires, awards, or expansion plans. An email titled, "Meet John Doe – Our New Lead Architect" can help personalize your company.
Here's an example of the news you could share in an email by Welkom: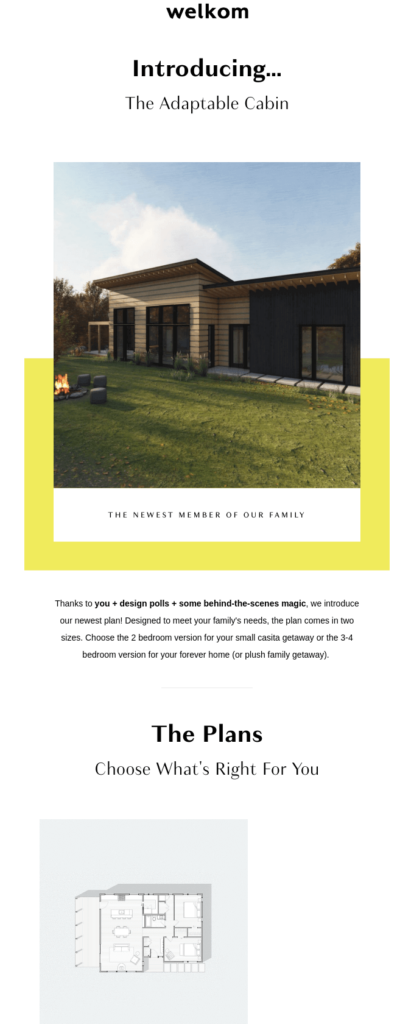 Holiday greetings or special occasions:

Use holidays or special occasions as an opportunity to reach out to your clients. A simple "Happy New Year" email can make clients feel valued.

Industry news

: Keep your audience updated with significant industry trends or news. Emails like, "What the New Construction Safety Regulations Mean for You," can showcase your expertise and dedication to client welfare.

Invitations to events or webinars

: If you're hosting an event, seminar, or webinar, use an email campaign to invite clients. This could be an industry discussion or a showcase of your latest projects. An enticing subject line could be, "You're Invited: Exploring Innovative Construction Techniques with Us."

Safety tips

: Sharing safety tips related to construction can highlight your commitment to safety. An email titled, "10 Safety Tips for Visiting a Construction Site," shows you care about your clients' well-being.

Maintenance tips

: Help your clients keep their properties in top shape with maintenance tips. This could include seasonal upkeep advice or general home care tips. A subject line like, "Winter is Coming: 5 Tips to Protect Your Building" could be useful for clients.
Each of these campaigns can help you engage with your audience in a meaningful way. With Blocks, you can quickly create stunning email templates for each campaign, ensuring your emails not only deliver valuable content but also leave a lasting impression.
Conclusion
In the construction industry, where every minute matters, streamlining communication with construction email templates can be a major boon. It's about saving time, ensuring consistency, and enhancing the effectiveness of your communication. With Blocks, creating these templates becomes an easy, even enjoyable task, thanks to its powerful features and user-friendly design.
Ready to transform your construction email communication? Give Blocks a try and experience the difference. Start crafting free construction emails today. Remember, a well-crafted email starts with a robust construction email template. Let Blocks help you build it!