Supercharge Your Marketing with ActiveCampaign Email Templates
Need an email template for ActiveCampaign? Choose the template you need from our collection and send your email marketing campaign with ease! If needed, customize the email in Blocks drag-n-drop editor and don't worry: our HTML templates are fully compatible with ActiveCampaign.
ActiveCampaign is a powerful marketing automation platform that allows you send email campaigns, manage subscribers, and more! Our HTML email templates are perfect for ActiveCampaign: just pick a template, edit it, and use it in your next newsletter! Our ActiveCampaign email templates have four strong points:
1. Responsive Emails for ActiveCampaign
Today, mobile first design is a must, but one wants to make sure that your email templates display correctly on other devices as well. Our ActiveCampaign templates look great on every device: be it a smartphone, a laptop, or a tablet. You can preview and test your template in Blocks before sending it to make sure it's responsive.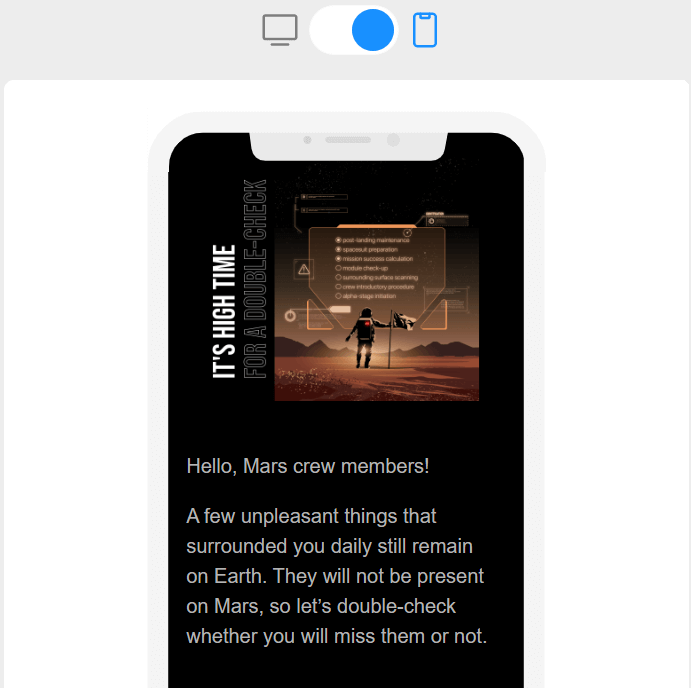 2. No-code Email Development 
Use Blocks to change email copy and images, edit email structure, add or delete custom elements, and more! The no-code drag-n-drop editor allows you to create beautiful emails for ActiveCampaign even if you don't know the first thing about coding: Blocks generates the clean code for you! 
In case you need to add custom code elements to your templates, just open the code editor and insert the necessary elements. You can easily customize the HTML code and add your own elements to the email: we won't limit your creativity! 
If you don't need the code editor, you can just continue using the no-code drag-n-drop editor and be sure that your email templates are safe and sound with us!
3. Easy-to-Use HTML Templates 
After you've edited and customized your email templates, all you have to do is to copy the HTML code of the email and paste it to ActiveCampaign! You can be sure that our email templates are fully compatible with ActiveCampaign.
If you need to use our email templates in another platform, don't hesitate to try them out! If your marketing platform supports HTML, our templates will work smoothly: just copy and paste the code and send your gorgeous email campaigns. 
4.Support from Blocks Team
If you've got some questions about Blocks, ideas for our improvement, or you're not sure whether your ESP works with our templates, just contact us: we'll be happy to help! Our team cares about user experience, so we've made our email templates accessible, convenient, and suitable for ActiveCampaign.