Magento Email Templates: Captivate Customers, Ignite Sales
Need new HTML email templates for Magento? Choose one of our professionally designed templates, edit it in the no-code email editor, and copy the HTML code to Magento! Our templates are fully compatible with Magento and look amazing, no matter the device.
5 Reasons to Create Magento Email Templates in Blocks
We may give you lots of reasons for trying out Blocks as a perfect tool for creating beautiful Magento email templates in no time. In this article, we've decided to share 5 features that will help you make the right decision. 
1. Gorgeous Magento Email Templates for Any Industry 
No matter what niche you work in: ecommerce, beauty, finance, housing estate, etc. In Blocks, you can create flawless email templates for any industry. If you don't want to start from scratch, go to the Template gallery, search for your industry using filters, choose one of the Magento email templates you like, and that's it. All that's left to do is style it to the needs of the email campaign, fast and easy. 
2. No Coding Skills Needed
Blocks is a no-code editor. As you may guess, you don't have to know anything about coding to create beautiful Magento email templates in several simple steps. Either take a ready-to-use template or build one out of premade structures and elements, edit them to your need, and Blocks will write the code for you.
There's an option for those who love coding and want to take part in this process too: just open the Code section and you're free to change it as you wish. 
3. Premade Structures and Elements to Speed Up the Production of Magento Email Templates
Blocks is a drag-n-drop editor which means that to build an email, all you need is to choose the structures and elements that suit your campaign, drag them to the desired part of the Magento email template, and drop them there. Pre-made structures and elements include various types of headers, footers, buttons, product grids, descriptive blocks, and so on. This will speed up email production and let you concentrate on other important tasks!
4. Blocks Can Store Your Projects for You 
Blocks has the function of storing all your projects on our safe servers: no more searching for information on your computer or asking team members to send you the materials. Divide your projects into separate folders for easy navigation and you (and your colleagues) will have 24/7 access to everything you need! 
5. Mobile-friendly Magento Email Templates
Every Magento email template you create in Blocks is responsive which means your email will look flawless across all devices. Blocks has a preview function that allows you to see how your email template transforms from the desktop version to the mobile one: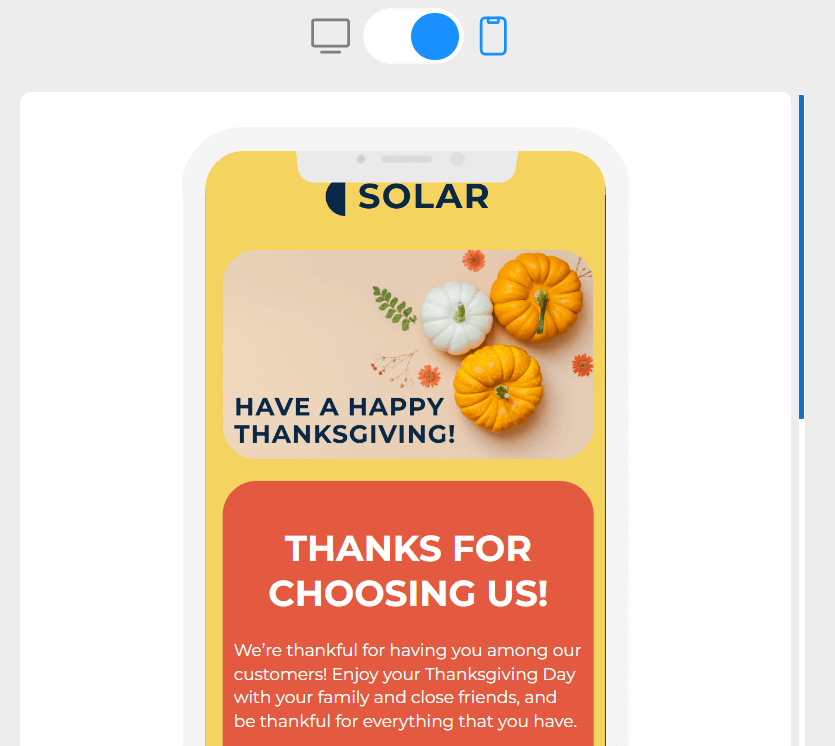 Final Thoughts
Blocks will take your email production to the next level. This way, you can save resources and spend them on other important tasks that were awaiting their hour. Give Blocks a try, and if you have any questions, our team is always happy to help!