Emails Perfected: Unforgettable Mandrill Email Templates
There's no need to waste time and create HTML email templates for Mandrill on your own: instead, use our ready-made email templates! Choose email templates from our collection, edit it as you please in the no-code editor, and send your Mandrill email campaign! Our HTML email templates are responsive and fully compatible with Mandrill.
Why Use Our HTML Templates for Your Mandrill Email Campaigns?
Do you need more transactional email templates for your Mandrill campaigns? Our team cares about user experience, so we've made our email templates accessible, convenient, and suitable for everyone! Read further to learn more info about our free HTML templates for Mandrill. 
1. Integration with Mandrill 
Our HTML templates are fully compatible with Mandrill. And, what's more, our email templates are also perfect for the most popular email service providers and marketing automation platforms that support HTML!
2. Always Responsive HTML Templates for Mandrill
Our Mandrill email templates look amazing on all devices, so you don't need to worry about whether the content of your HTML email displays correctly or not.
If you want to make sure whether all the elements of an email display correctly on mobile and desktop devices, just open the preview mode in the editor: you can check whether everything's alright and edit something if needed.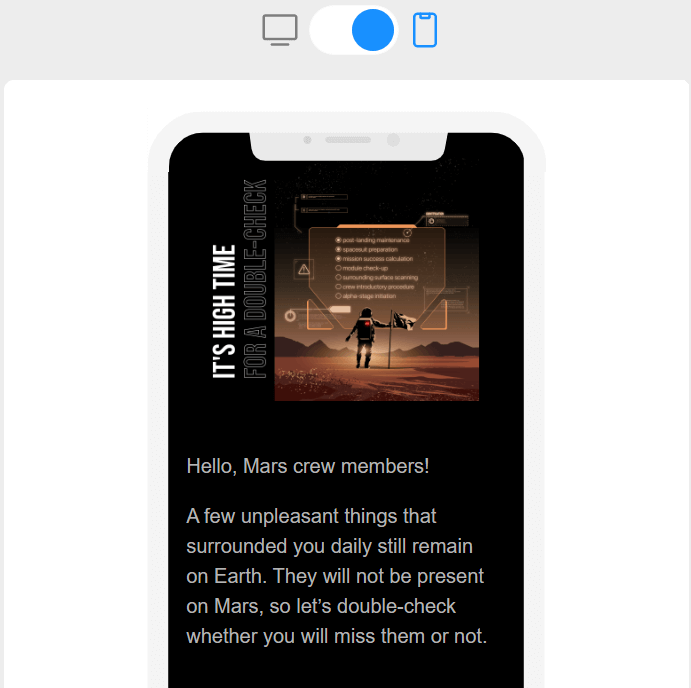 3. Free Ready-to-Go HTML Templates for Any Industry
No matter what your industry is: be it ecommerce, real estate, finance, or something else, you'll find the template you need in our collection! Just pick a template for your Mandrill transactional campaign, tailor it to your specific business goals in Blocks, and you're set! There's no need to worry about hiring a team of email designers, coders, and testers: simply use our free ready-made templates!
4. No Code Required for Customizing Mandrill Templates in Blocks
Change email copy and images, edit email structure, add or delete custom elements, and more in Blocks drag-n-drop editor! You might not know the first thing about coding and be sure that Blocks generates the clean code for you! After you've created a template, all you'll need to do is to add the email to Mandrill and send your transactional campaign. 
5. Edit Code If Needed
Unlike some other email generators, we also provide an opportunity to edit email HTML code to those users who need it. You can use our drag-n-drop editor and ready-to-use elements or open the HTML editor and edit the code – the choice is yours! The last step left will be to send your email template via Mandrill. 
6. Support from Blocks Team
If you've got some questions about Blocks, ideas for our improvement, or you're not sure whether your ESP works with our templates, just contact us, we'll be happy to help!