Elevate Communications with Our Salesforce Email Templates
No need to create emails for Salesforce on your own: simply take one of our free responsive templates! Choose HTML email templates for Salesforce from our collection, customize your email template in Blocks drag-n-drop editor, if needed, and send your newsletter via Salesforce!
7 Reasons to Create Salesforce Email Templates in Blocks
Creating amazing Salesforce email templates has never been easier! Our drag-n-drop editor has numerous killer features that will take your email production to a next level, and here are some of them:
1. Code or No Code: You Decide
Don't have any coding skills? You don't need them! In Blocks, you can create gorgeous Salesforce email templates using structures and atoms. And the editor will automatically write perfectly clean code for you. 
However, if you want to edit the code yourself, you can do it as well: just open the code section and do magic. 
2. Mobile-friendly Email Templates for Salesforce
Thanks to Blocks, you can be one hundred percent sure that your Salesforce email templates will look equally beautiful across all the possible devices. 
Blocks email templates are responsive, so mobile users won't have any problem reading your amazing emails. You can also preview the desktop and mobile versions of your email in Blocks to see how the email will look like: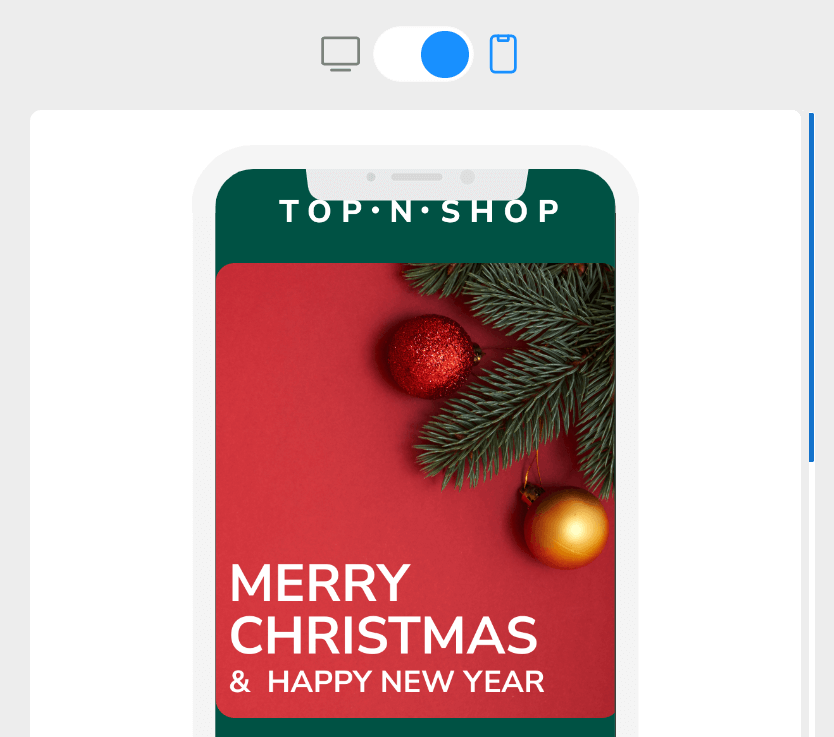 3. Save Time, Money, and Resources on Salesforce Email Templates Production
As the Litmus study shows, 44% of teams may spend about 1-2 weeks just to produce one email, while 52% of them spend at least 2 weeks doing the same thing. 
Blocks is a perfect tool to reduce the amount of time, resources, and, of course, money spent on email production. You don't need to hire a coder, a designer, a tester, and lots of other employers to make a beautiful email: Blocks will help you. 
The result: you will create more high-quality emails in less time.
4. Work Together With Your Teammates in Our Collaborative Tool
We know for sure that sending each other comments using various communication tools, discussing your work during online and offline meetings, and trying to understand what your teammates changed in an email can be pretty tiring. 
In Blocks, you can work together with other members of your team simultaneously. 
5. Store Data in One Place
There's no need to search for images, parts of texts, and some other elements when you desperately need them. With Blocks, you can store all the data in one place and easily navigate through big masses of information: just divide everything into folders and save time and energy for other important tasks!
6. Get Help from Blocks Team
Stuck in the process and don't know what to do? Choosing between using a ready-made Salesforce email template or creating one from scratch? Have any ideas for our improvement? We want to hear from you!
Contact Blocks team and we will answer all of your questions in the blink of an eye. 
7. Save Custom Elements for Later Use
Ever-green emails are our future because they help save time and money. Create gorgeous custom elements and save them for your next emails. 
Make your Salesforce email templates recognizable with the help of custom elements that reflect your brand image. 
Border Line
Your Salesforce email templates are safe with Blocks: create responsive HTML email templates in no time, save custom elements for later use, receive support from our team, and get lots of other benefits in Blocks drag-n-drop email editor.