Sendy Email Templates for Simplified Email Marketing
Browse our Sendy email template collection to find an email that matches your needs! Just customize these email templates in our no-code editor, copy the HTML, and send it via Sendy. You can be sure that your email template looks good across all devices and is fully compatible with Sendy.
Sendy is a self-hosted email marketing platform that allows you to send newsletters, promotional emails, and autoresponders to your subscribers. It was created as a more affordable alternative to other email marketing services, such as Mailchimp and Campaign Monitor.
If you're looking for new email templates for Sendy that could be easily customized and used for email campaigns, we've got you covered! Explore our template gallery: all of these templates are fully compatible with Sendy and other email marketing platforms that support HTML.
Why Use Blocks for Creating Email Templates for Sendy? 
Blocks is a user-friendly email template editor that allows you to create designs by simply dragging and dropping elements onto structures. Learn about some benefits of Blocks below. 
1. Blocks requires no coding knowledge 
If you want to create email templates for Sendy or other platforms and don't want to dive into HTML, Blocks is your choice: even someone with no technical experience can create professional-looking designs in a matter of minutes in Blocks. 
This ease of use can be especially beneficial for small business owners or entrepreneurs who may not have the budget to hire a designer or developer. 
2. Blocks does not add unnecessary lines of code
Unlike other popular email builders, Blocks does not add custom unnecessary lines of code that could affect your email performance. Blocks is designed specifically for creating responsive and lightweight emails that are optimized for all devices and email clients
We believe it's important to pay special attention to this aspect: with the right editor, you can create beautiful and engaging emails that will resonate with your audience and drive conversions, all while ensuring optimal email performance and deliverability. 
3. Blocks saves your time 
According to a survey by VWO, a website optimization platform, "the biggest reason why users prefer visual editors is that they can create and update pages faster." With the Blocks drag-and-drop editor, you can quickly create and iterate on designs without having to navigate complex menus or write code.
If you don't want to spend lots of time designing and coding your email templates for Sendy, try Blocks and see the difference! 
4. Improve collaboration
The Blocks drag-n-drop editor can also help improve collaboration. When everyone on your team can use the same editor, it becomes easier to share ideas and make changes. This can lead to a more efficient workflow and better results.
Blocks provides you with convenient collaboration tools that allow you to write comments and tag the necessary parts of your email template.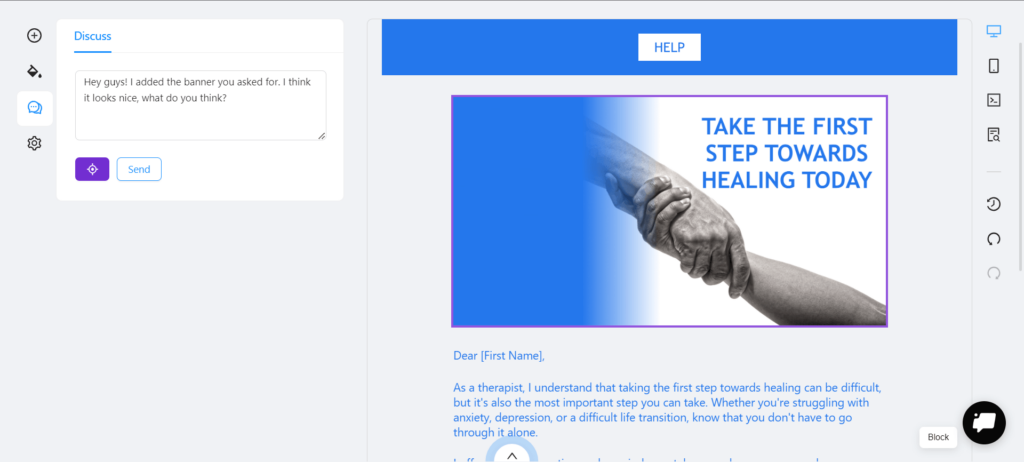 5. Low learning curve 
One of the main advantages of the Blocks editor is its low learning curve. Unlike traditional design software, Blocks is very user-friendly and intuitive. This means that you can start creating email templates for Sendy or other platforms right away, without needing to spend hours learning how to use the software. This can be especially beneficial for small businesses or entrepreneurs who need to create digital content quickly and efficiently.
6. Quick customization & gorgeous result 
Blocks provides a wide range of pre-designed templates and email elements that can be customized to fit your specific needs. Additionally, some Blocks allows for custom code to be added, which can help you achieve the level of customization you need.