Elevate Your Brand with Irresistible Shopify Email Templates
Looking for responsive email templates for Shopify? Browse our gallery to find a template that suits your purpose. You don't need to hire designers or coders to customize your Shopify email template: simply choose a template, edit it in the drag-n-drop editor, and send your Shopify campaign!
Shopify is an ecommerce platform that allows businesses to create online stores and sell products or services.
Shopify offers a range of email marketing integrations and apps, such as Mailchimp and Klaviyo, that make it easy to connect with customers and drive sales through email campaigns. 
Another advantage of using Shopify for email marketing is that it allows you to personalize your emails and offers based on customer behavior and purchase history. With Shopify, you can create highly targeted email campaigns that are more likely to resonate with your audience and drive conversions.
If you want to create email templates for Shopify in just a few clicks, just use Blocks! Our email templates will be a great fit for your Shopify campaigns, enhancing your email marketing and saving your time on email production! 
With Blocks, you can save your resources and create Shopify email templates without hiring email designers and coders: Blocks offers several flexible pricing plans (including a free plan), so you can choose the plan depending on your needs and budget.
Why Use Blocks Email Templates for Shopify
Shopify email marketing is a critical tool for any ecommerce. If you're looking to create stunning Shopify email templates that will help you stand out from the competition, then Blocks is the perfect solution. Here are five reasons why Blocks is a great choice for anyone looking for free responsive Shopify email templates:
1. No HTML Coding Skills Required
One of the key benefits of using Blocks is that it's fit for any user, regardless of their HTML coding skills. With Blocks' no-code editor, you don't need to be an expert in HTML or design to create beautiful email campaigns. You can easily drag and drop different elements to create a stunning template that reflects your brand and captures your audience's attention.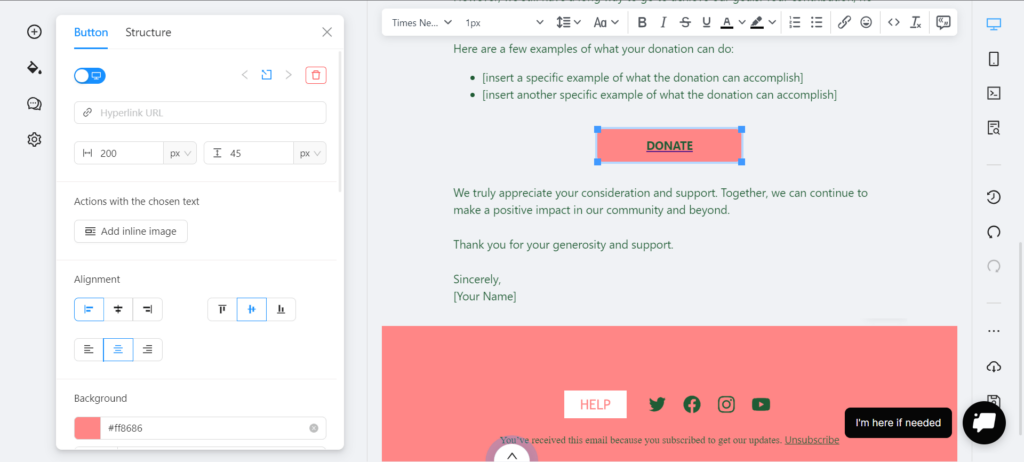 2. Shopify Email Templates Work Great in the Blocks No-Code Editor
Blocks email templates are specifically designed to work seamlessly in Shopify. Whether you're looking for a simple welcome email or a more complex promotional campaign, you can easily customize any of the available Shopify email templates to meet your needs. Plus, Blocks' responsive design ensures that your emails will look great on any device, from desktop computers to mobile phones.
3. Blocks Is Really Fast and Has No Gatekeeping
Another great feature of Blocks is that it's really fast and has no gatekeeping. You don't have to wait for hours to create a new email campaign, and you don't need to have any technical expertise to use it. With Blocks, you can create stunning email templates in minutes, without any barriers or limitations.
4. Transfer From Blocks to Shopify Is Really Easy
Transferring your email templates to Shopify is a breeze. All you need to do is export your Blocks email templates to Shopify in a form of HTML file or just copy and paste the code, and then you can use them right away.
5. You Can Easily Divide Shopify Emails Into Blocks for Later Use
Finally, with Blocks, you can easily divide your Shopify emails into blocks for later use. This means you can create separate blocks for your header, footer, body content, and other design elements, making it easy to reuse and customize these blocks in future email campaigns. Plus, with Blocks' drag-and-drop interface, it's easy to rearrange and customize these blocks to create a unique, professional-looking email template.
In summary, if you're looking for free responsive Shopify email templates that are easy to use, fast, and highly customizable, Blocks is an excellent choice. With its intuitive interface, seamless Shopify support, and flexible block-based design, Blocks makes it easy to create stunning email campaigns that will help you engage with your audience and drive more sales. So why wait? Give Blocks a try today and start creating your own stunning Shopify email templates!