Captivating Audiences with Dynamic Announcement Email Templates
Resort to our ready-made announcement email template and customize it in Blocks — a drag-n-drop editor. Create an announcement email template now and learn the essential tips for the template in the article below: significant points to mention, mistakes to avoid, and advice to follow.
Announcements are key to promoting any product, no matter how great and unbelievably revolutionary it is. Without a proper announcement no one will ever know that you're developing something that will change everybody's lives. If you don't want to spend tons of time on creating such an email just pick and customize one of our announcement email templates. Our gallery contains announcement email templates for any industry. Get these free templates and some insights from the article below.
Importance of Responsive Announcement Email Templates
Announcement emails serve as an effective way to communicate important information to your subscribers & customers. A responsive announcement email template is one that is designed to adjust and adapt to different devices, such as smartphones, tablets, or laptops, so any recipient can view and engage with the email regardless of the device they are using.
Creating Effective Announcement Email Templates
Effective announcement email templates take several steps to create. Here are some of them to keep in mind when creating your announcement email:
Define your goals

: The first step in creating an announcement email is to define your goals. What do you want to achieve with this email? Do you want to draw attention towards your revolutionary product or share some updates with your subscribers? Once you have defined your goals, you can craft your message to align with them.

Create a clear and concise message: Your announcement email should be clear and concise. Don't overload it with tons of details and technical information. Keep it for later, when people will already know what your product is and will be asking for more info. Focus on the key message you want to convey and make sure it is easy to read and understand.

Use graphical content

: Incorporating images and videos can help make your email more engaging and visually appealing. However, make sure that your images and videos are optimized for mobile devices and do not slow down the loading time of your email.

Include a call-to-action

: A call-to-action (CTA) is an essential component of any announcement email template. It encourages the subscribers to take action, whether it's visiting your website to learn more, signing up for an event, or making a purchase.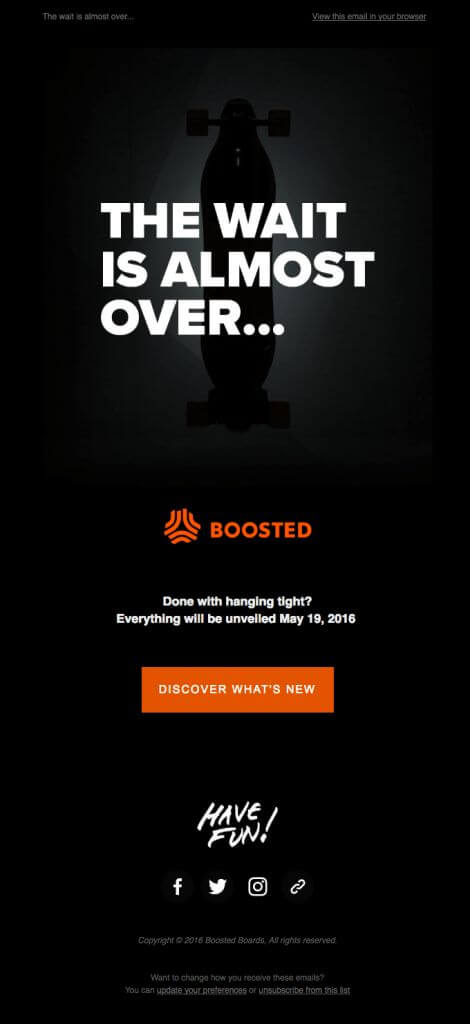 Designing an Effective Announcement Email Template
The effective announcement email design process involves creating a visually appealing template that is optimized for all devices. Here are some tips to keep in mind when designing your announcement email:
Keep it simple: no need for too many details. Keep it straightforward. Use a clean and easy-to-read font, don't use too many colors or complicated ornaments. People don't have to crawl through your design in order to understand the message.


Use white space: it can help make your announcement email template more readable and visually appealing. White space can also be a subtle tool to draw the recipient's attention to important information.


Optimize for mobile

: make sure your announcement email template is optimized for mobile devices. Use a responsive design that adjusts and adapts to different screen sizes and resolutions.

Use high-quality images & videos

: if you are using graphic content in your announcement email template, make sure they are high-quality and optimized for mobile devices (especially pay attention to videos, as some formats are not compatible with certain devices and OS' by default). Don't forget to use compression tools to reduce the file size without compromising on the quality.
Writing an Effective Copy for an Announcement Email Template
Writing an effective copy for an announcement email template is essential to ensure that your message resonates with your subscribers. Here are some tips to keep in mind when writing your announcement email template copy:
Start with a clear and attention-grabbing heading. Use language that is concise, informative, and engaging. This will help to entice recipients to open and read the email.


Begin the email with a friendly greeting & use a conversational tone.

This touch will help to establish a connection with the subscribers and create a sense of rapport.

Be concise and to-the-point. Use short, simple sentences and paragraphs to make the content easy to read and understand. Avoid using jargon or technical terms that might confuse or alienate the reader. As we mentioned before, keep it simple.


Clearly state the purpose of the email and provide all relevant details, such as the date, time, and location of the event or the launch of your product. Include any relevant links or attachments that may be helpful to the reader. Don't provide any excess information.


Use humor (if appropriate)

. Humor can be a great way to make your announcement email more personal and warm, but keep in mind to use it only if it's appropriate for your audience and message.
Remember, a good copy for an announcement email template should be informative, engaging, and easy to read. By following these tips, you can create a compelling email that effectively communicates your message to your audience.
Conclusion
Announcement email templates are a powerful tool for businesses and individuals to share the feeling of hype and create great expectations of what you have in stock for your subscribers. Follow the rules we share to create a good announcement email template and engage your subscribers!