Unlock Efficiency with Professional Appointment Email Templates
Create your appointment email template for any industry in a blink of an eye: just use & customize our ready-made template in the drag-n-drop editor. Our appointment email template is perfect for keeping in touch with anyone. Use this free template and learn more tips in the article below.
If you have a lot of people to communicate with, scheduling appointments can become quite challenging. This is where appointment email templates come in handy. Our appointment email templates make sending appointment requests, reminders, and confirmations easy, quick, and efficient. From this article, you will learn more about the importance of appointment email templates, what businesses may need them, and share some advice for creating them.
The Importance of Appointment Confirmation Email Templates: 5 Reasons
Saving your time

. Appointment email templates are a great time savior. Just create a template for you to quickly personalize for this or that particular recipient instead of building personalized appointment emails from scratch and filling them with details each time.

Staying consistent

. Appointment email templates help you ensure consistency in your communications. This is especially important if you are to schedule several appointments with people of different groups (social, ethnic, etc.). Using a consistent appointment email template will ensure that everyone receives the same information and knows what to expect without being treated differently. The message will be equally clear to everyone. 

Being a professional.

Well-designed and well-written appointment email templates will help portray your business as professional and organized. A professional appointment email template will leave a positive impression on the recipient and help build trust between you and your employees, customers & partners.

Avoiding miscommunication

. Appointment email templates ensure that all necessary information is communicated clearly and succinctly, reducing the chance of miscommunication. By including all relevant details, such as the date, time, and location of the appointment, you can ensure that the recipient has all the necessary information.

Increasing efficiency

. Appointment email templates help improve efficiency by automating the appointment scheduling process. By using an appointment email template, you can easily send out appointment requests and reminders to multiple people, freeing up your time to focus on other tasks.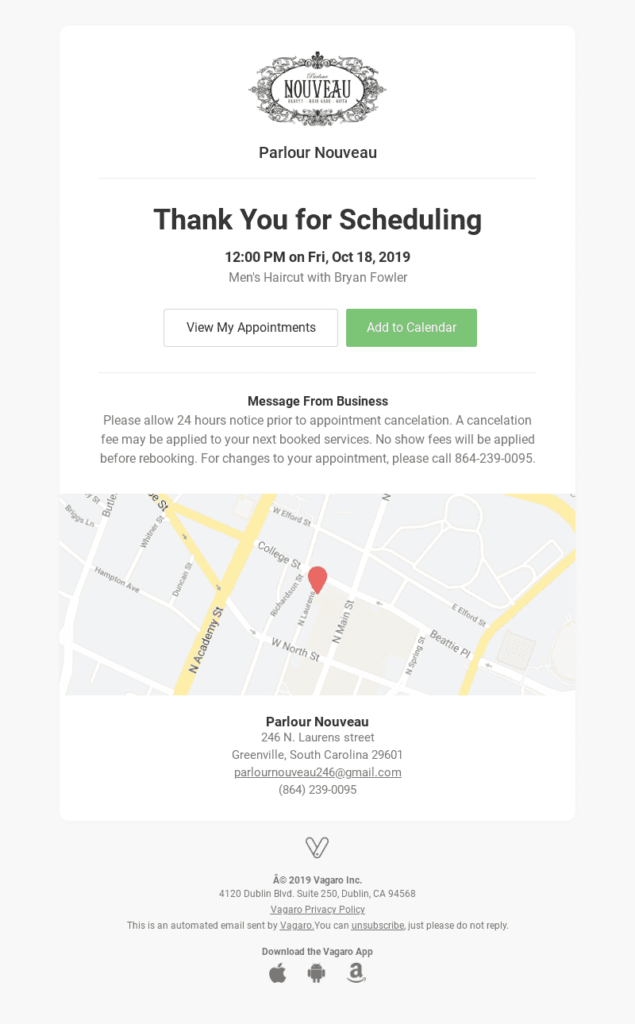 What Businesses May Need Appointment Email Templates?
The list of businesses that may require appointment email templates can go on and on. So here's a short list of the teams that need well-designed and well-written appointment email templates:
Healthcare providers 
Various healthcare providers, such as therapists, doctors, and dentists, may use appointment email templates to send patient appointments, appointment confirmation emails, and reminders.
Service providers
Service providers, e.g. hairdressers or repair services, may use appointment email templates to schedule appointments with their clients and follow-up emails.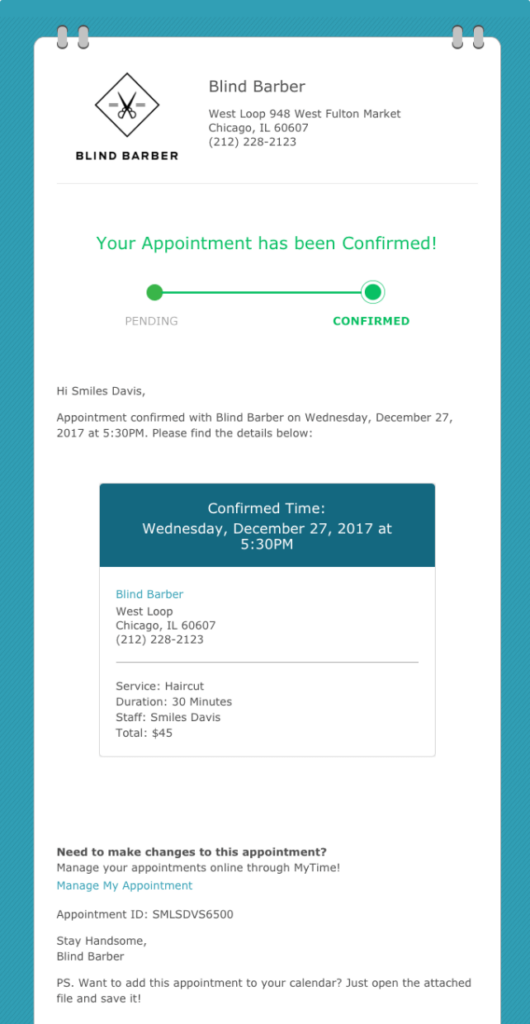 Sales teams
Sales teams require appointment confirmation email templates to schedule appointments with potential clients and send confirmation emails.
HR departments
HR departments need appointment email templates to schedule job interviews with candidates and send them appointment confirmation emails.
Event organizers
Event organizers use appointment email templates to schedule meetings with vendors, sponsors, and other stakeholders and send reminders.
Some Advice for Creating Appointment Email Templates
No one and nothing is perfect, it's okay to make mistakes. But to avoid them is even better. To save you some time we listed some advice on how to make your appointment email template better and not find yourself in a shameful situation.
1. Don't overcomplicate
When creating an appointment email template, keep it simple and straightforward. Avoid using overly complicated language and include only the essential information. You want to bring the information home to people, there's no need to use fancy wording in it. 
2. Keep people's personalities in mind 
While templates can save you time, it's important to remember that each email is sent to a particular recipient. Include their name, specific appointment details, and any other relevant information. And check everything twice, you don't want to mix up anything.
3. Don't forget to proofread
A poorly written email will poorly reflect your business. Always proofread your appointment confirmation email templates before sending them out to ensure that they are error-free. It's a basic gesture of care for your recipients.
4. Stay consistent
Ensure that your appointment email templates are consistent in design and tone. This will help build your brand and ensure that your emails are recognizable. Don't jump from one style to another. Leave it for other types of emails.
5. Let people choose
When scheduling appointments, it's essential to offer different date and time options. This helps increase the likelihood that the recipient can attend the appointment, reducing the need for rescheduling. Remember that people have other things to do and their plans may interfere with yours. Compromise.
Save Time With Blocks Email Builder for Appointment Email Templates
Blocks is a no-code email builder that will help you create appointment confirmation email templates quickly and easily, without any coding skills required. With Blocks, you can choose from a variety of pre-designed templates that are optimized for all devices, making sure your emails look great on any screen. You can also customize the appointment confirmation email templates to match your brand's style and add your own text and images. The best part about Blocks is that it's fast and doesn't add any unnecessary code to your emails, ensuring that your messages reach your recipients' inboxes quickly and look professional. Whether you're a beginner or a pro, Blocks is the perfect email builder for anyone looking to create appointment email templates efficiently and with ease.
Conclusion
In conclusion, appointment email templates are a valuable tool for any business looking to optimize its appointment scheduling process. The appointment email templates save your time and let you stay consistent, professional, and efficient. In today's fast-paced world, appointment email templates are an essential tool for effective communication, and using them can help businesses save time, build credibility, and improve their overall appointment scheduling process.