Holidays are always a good opportunity to connect with your subscribers and draw their attention to your offers. However, it's essential to create holiday email templates that would look gorgeous and stand out from your competitors. If you want to create great holiday emails in a few minutes, use the Blocks editor and follow our recommendations below!
Holiday-Specific Tips with Examples of Email Templates 
Holiday email templates won't be a problem for you if you follow our tips. Explore the recommendations, get inspired by examples of emails and subject lines, and create email templates for holidays with the Blocks email editor in just a few clicks. No design or coding skills are required!
Holiday Email Template for Christmas and New Year's Day
Include a heartfelt message wishing your recipients a happy new year, highlight your business's achievements from the previous year, and share your goals for the upcoming year. Offer a special discount or promotion to kick off the new year.
Also, feature seasonal products, gift ideas, or services. 
Example of a subject line: "Cheers to the New Year! Celebrate with Our Special Offer".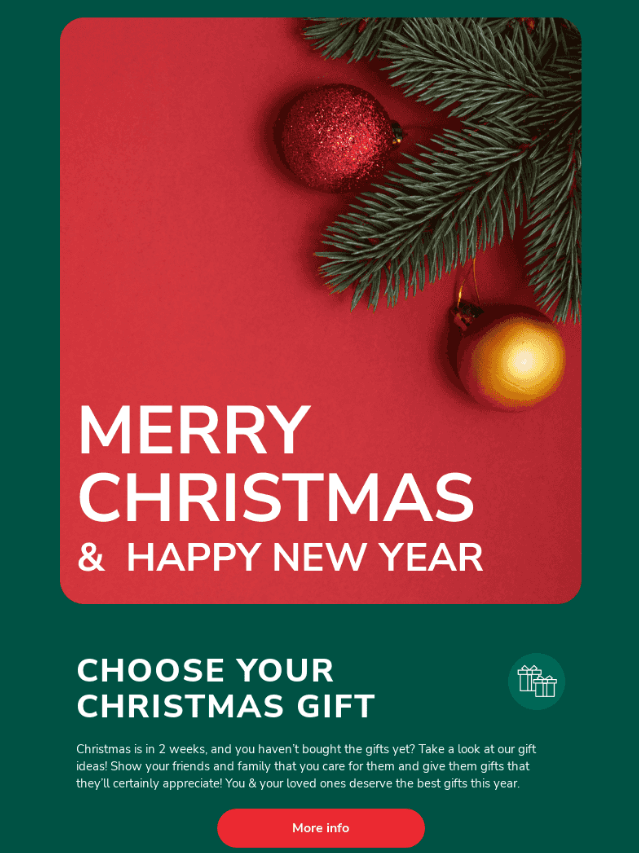 Holiday Email Template for Valentine's Day
Show appreciation to your customers with a holiday email template that offers special discounts or limited-time offers on Valentine's Day-themed products or services. Include images of heart-shaped products or romantic settings.
Example of a subject line: "Share the Love with Our Exclusive Valentine's Day Deals!"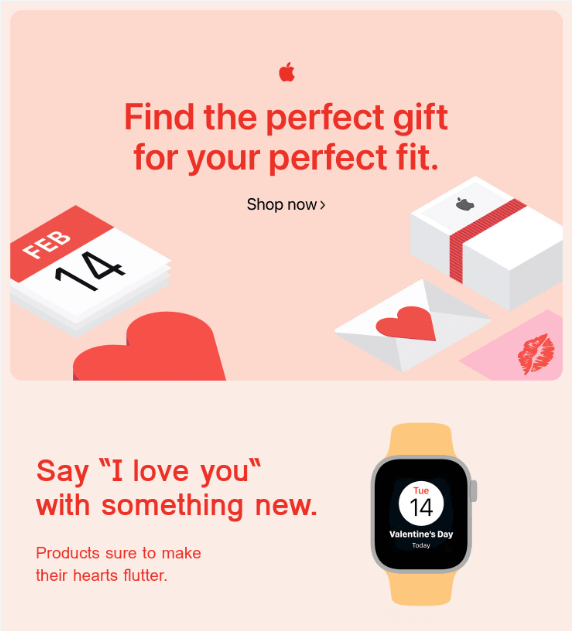 Holiday Email Template for Easter
Feature seasonal products or services related to Easter, such as chocolates, flowers, or themed events. Offer exclusive discounts or promotions for the holiday weekend.
Example of a subject line: "Hop into Savings with Our Easter Weekend Sale!"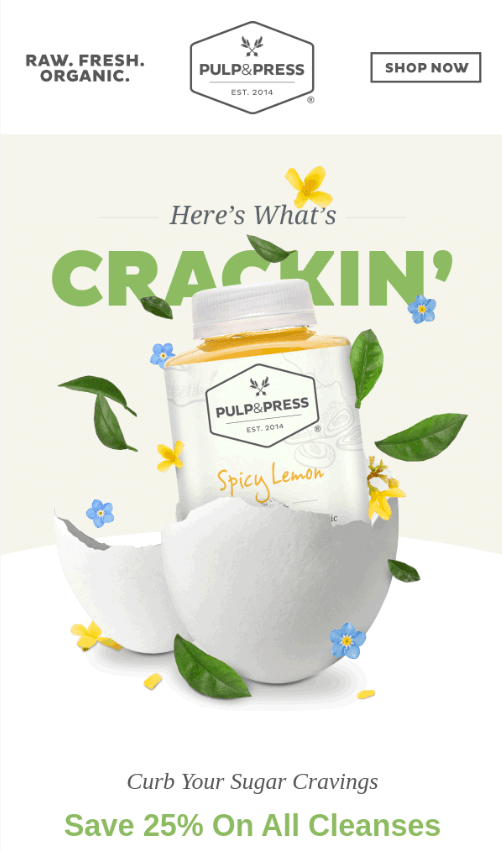 Holiday Email Template for Halloween
Get creative with a Halloween-themed design, featuring spooky graphics or images. Offer discounts on seasonal products or services, and encourage customers to share their Halloween experiences or costume ideas.
Example of a subject line: "Spooktacular Savings: Unwrap Our Halloween Deals!"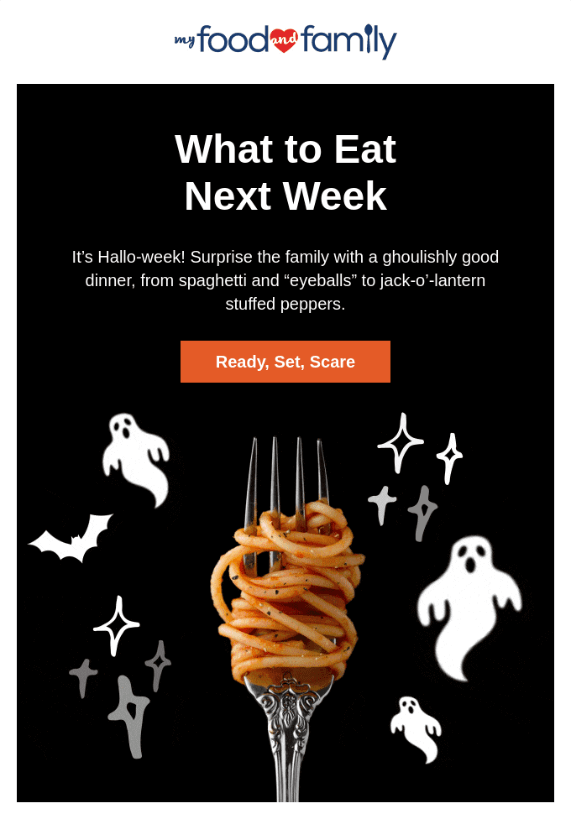 Holiday Email Template for Thanksgiving 
Express gratitude to your subscribers in your Thanksgiving holiday email template and offer a limited-time Thanksgiving promotion or discount. You can also share any Thanksgiving-related stories or initiatives your company has taken part in, such as volunteering, food drives, or charitable donations.
One more idea is to showcase seasonal products or services that cater to Thanksgiving celebrations, such as festive decorations, dinnerware, or meal-planning services.
Example of a subject line: "Giving Thanks: Enjoy Our Special Thanksgiving Offer!"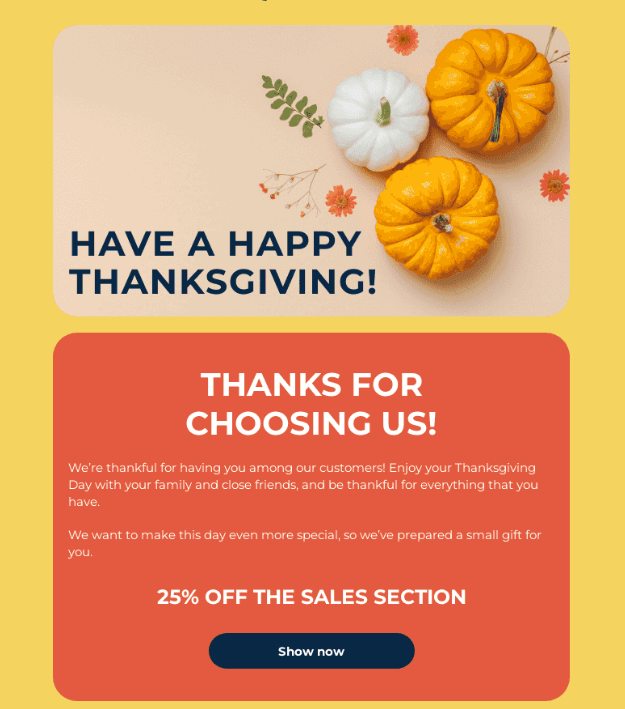 Holiday Email Template for Veterans Day
Begin your Veterans Day email by acknowledging the importance of Veterans Day and expressing gratitude for the service and sacrifices of military veterans and their families. Here're some more ideas for an effective and relevant holiday email template on Veterans Day:
Share any initiatives your company is involved in to support veterans, such as donations to veterans' organizations, discounts for active and retired military personnel, or veteran-focused events.

Showcase products or services that have a patriotic theme, or are specifically designed for veterans or military families. You may also highlight any products or services that are part of a special Veterans Day promotion.

Offer limited-time discounts or promotions exclusively for Veterans Day, encouraging customers to take advantage of these deals and show support for veterans.
Example of a subject line: "Honoring Our Heroes: Enjoy Exclusive Veterans Day Discounts and Support Our Veterans!"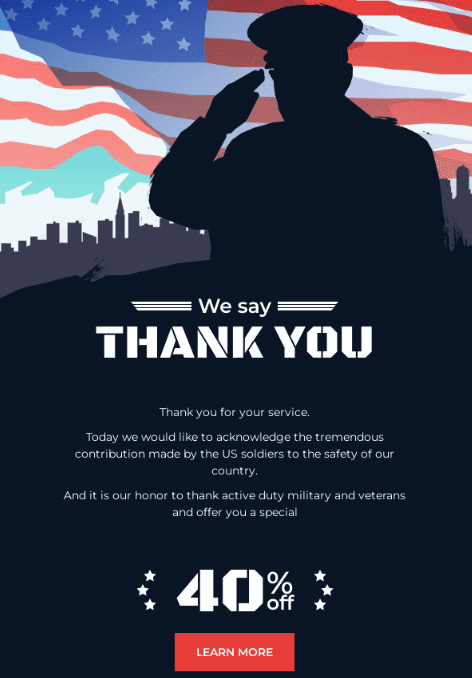 Remember to adjust the tone and design of your email templates to match your brand identity and cater to your audience's preferences. 
7 Recommendations for Amazing Holiday Email Templates 
Let's discuss some essential recommendations that will help you create holiday email templates that drive sales and increase subscribers' loyalty!
1. Choose the holidays that suit your niche and brand's values
If you want your email templates to stand out, you can try sending campaigns on unusual holidays that are related to your niche and products. Also, send holiday emails that align with your values and work principles: thus, you'll be able to build trustworthy and loyal relationships with subscribers. 
2. Don't miss popular holidays 
It's no secret that there are holidays when people expect to receive email campaigns and offers: for example, subscribers usually wait for discounts on Black Friday and Cyber Monday, gift selection on Christmas, and so on. If you ignore such holidays, you'll just deprive yourself of additional sales. 
3. Keep your tone of voice 
Always try to keep your unique brand identity and tone of voice in your holiday email campaigns: even if it's a popular holiday, your style should be recognized by subscribers and show your difference from other brands in the inbox. 
4. Use unusual formats: for example, poems, storytelling, infographics
One more way to create outstanding holiday email templates is to add something special to the design or email copy. It can be practically anything: an unusual banner, a game, a story, etc. The main thing is to create an email that would provide value and let your email stand out. 
5. Create holiday email templates with the target audience in mind 
It's important to know your audience and understand your subscribers' preferences, locations, and cultures to create relevant and engaging content.
Don't forget to personalize your emails: at least, add subscribers' names. If you want to make your approach to the audience more personalized, you can segment subscribers according to their purchase history, gender, or interests and send the email content that would more likely appeal to this or that segment. 
6. Create mobile-friendly email templates 
Blocks provides only mobile-friendly email templates. Mobile responsiveness is one of the key factors of email design for several reasons:
Growing mobile usage: in fact, mobile devices have surpassed desktop computers as the primary device for accessing the internet.

Better user experience: mobile-responsive emails automatically adapt to the screen size and orientation of the device they are viewed on. Thus, a mobile-responsive holiday email template is readable, easy to navigate, and visually appealing on all devices.

Higher engagement and conversion rates: if your emails are not mobile-responsive, your recipients may find it difficult to read or interact with your content on their mobile devices, leading to lower engagement and conversion rates. Also, email clients and service providers may flag non-responsive emails as spam, decreasing the chances of your email reaching the recipient's inbox.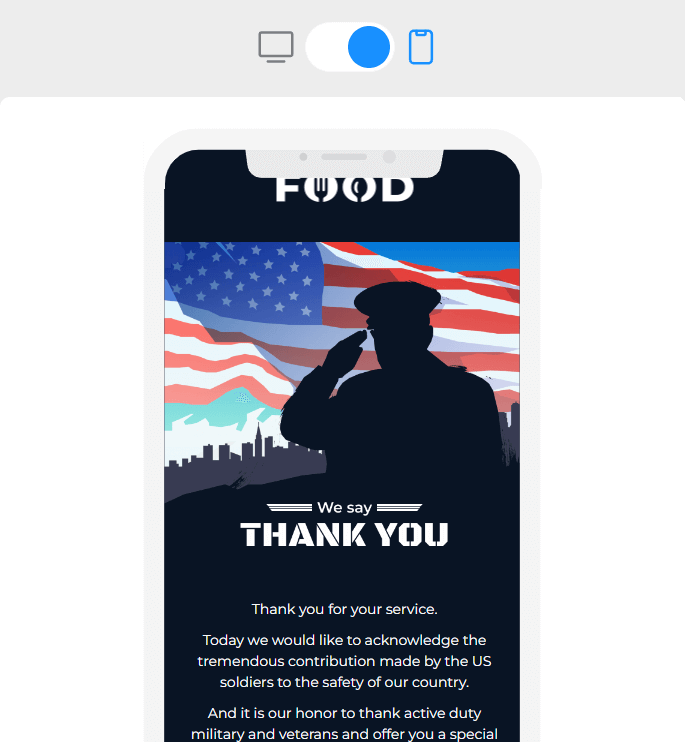 7. Add a clear call to action 
Include a clear and actionable CTA that encourages your recipients to take the desired action, such as visiting your website or taking advantage of a special offer. A call to action is a crucial element in holiday email templates for several reasons:
Drive desired actions. A CTA guides your recipients toward the desired action you want them to take after reading your email, such as making a purchase, signing up for an event, or visiting your website. 
Focused messaging. A well-crafted CTA helps maintain the focus of your holiday email content and ensures that your recipients understand the main purpose of your message.
Improved user experience. Including a clear CTA in your holiday email template streamlines the user experience by reducing confusion and friction. Your recipients can quickly and easily identify the action you want them to take, which may lead to higher engagement and response rates.
Holiday Email Templates: Final Words 
Let's sum up the most important points about designing an effective holiday email template:
tell about your products on those holidays that match your brand;

use a holiday email template as an opportunity to tell about your brand's values;

create themed holiday collections and selections of products;

try out new formats: infographics, storytelling, and so on;

always offer subscribers some value: for example, a discount coupon or a gift. 
Remember to adjust the tone and design of your email templates to match your brand identity and the preferences of your audience. The key to success is to maintain a balance between promotional content and genuine holiday wishes.