Trigger email marketing means sending emails automatically after specific actions or events connected with users. These emails can be highly effective for engaging subscribers and driving conversions. With Blocks, you can create trigger emails in just a few minutes!
Personalize Your Trigger Email Template With Blocks 
Trigger emails are often closely connected with personalization. In email marketing, personalization means adding subscribers' personal data to email templates automatically. Some elements of personalization in trigger emails are:
a subscriber's name;

local phone number of a retail store;

viewed items (abandoned view and abandoned cart email templates);

product recommendations;

a specific event: for example, a subscriber's birthday. 
All the examples of trigger emails but the last one are ideas of content personalization; the last one is connected with personalization of the date of sending. 
With Blocks, you can add dynamic content to the email code and automatically add personal data like a subscriber's name to your trigger email template. 
What Businesses Should Send Trigger Emails?
Trigger emails are essential for the following industries:
If you need to make a timely offer, inform users about some changes, or keep them updated about your products and discounts, trigger emails are absolutely necessary for your email marketing strategy. 
Popular Types of Trigger Email Templates
The most popular types of trigger emails are:
welcome emails: when people subscribe to your newsletters, they receive welcome trigger emails;

abandoned view and abandoned cart emails;

reactivation campaigns: when a user hasn't visited the website for a while, they receive trigger emails with special offers;

trigger emails that ask for a review or feedback;

survey emails after a purchase, etc. 
Examples of Trigger Email Templates By Blocks: Try Them Now!
There are various types of trigger email templates that can be created in the Blocks email editor in just a few clicks. Here are some examples of free trigger email templates by Blocks that can be used right now: just click the email template you need, open the editor, create a project, and customize an email in a few minutes! No designing or coding skills are required. 
Welcome trigger emails for new users 
Welcome emails are an essential part of any email marketing strategy. When a new user subscribes to a newsletter, this triggered email welcomes subscribers, and tells them a little about the company/brand, its values, the content of emails, the loyalty program, etc.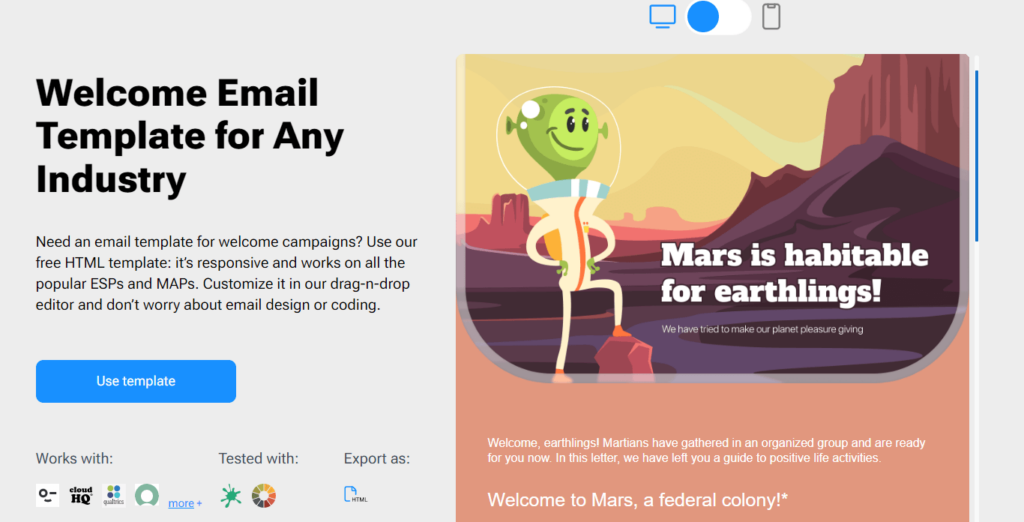 Trigger email templates for events 
You can send automated trigger emails on special days and holidays: for example, on Veteran's Day, Christmas, or a Birthday. These email templates should have design elements related to the event and contain holiday-specific content or special offers. It's important to offer your subscribers some value, not just send an event-related email with no purpose or a greeting card. 
For example, on Thanksgiving, we offer you to send a trigger email campaign that expresses your gratitude to subscribers, offers a discount, and displays a product grid with popular products. You can edit and customize this email template with your details, offers, and photos.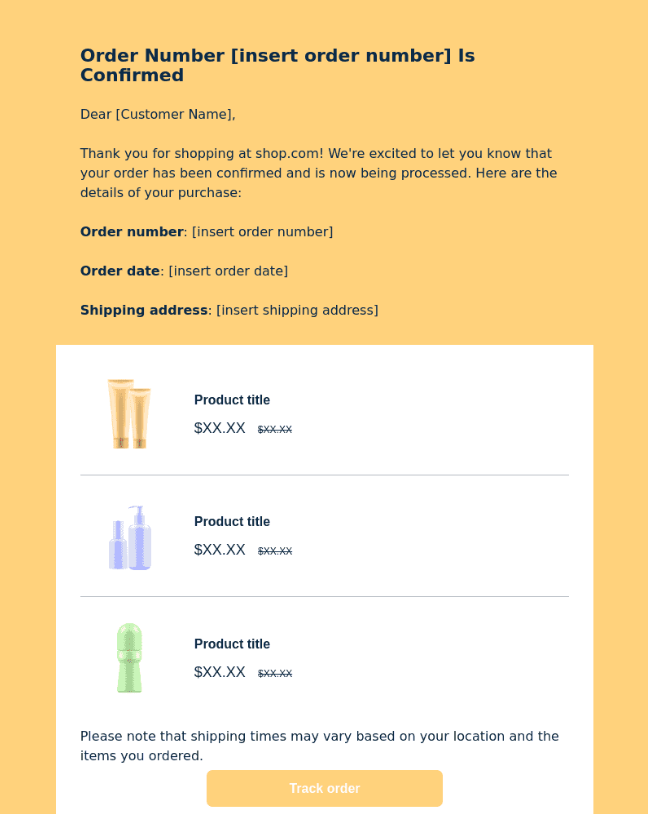 You can choose other trigger email templates for holidays and customize them in the Blocks drag-n-drop email editor! 
Trigger abandoned cart emails
When a user adds items to the cart and doesn't make a purchase, it's a good reason to send them a personalized trigger email. This email should have a simple yet beautiful design to grab your subscriber's attention and convince them to place the purchase. We believe that our email template is a perfect example of an effective and minimalist abandoned cart campaign. 
We created this email for ecommerce, but if you need a template for another industry, you can customize this template and make it suit your sphere: just add your own images, text, and branding, and your trigger email is ready to hit the inbox!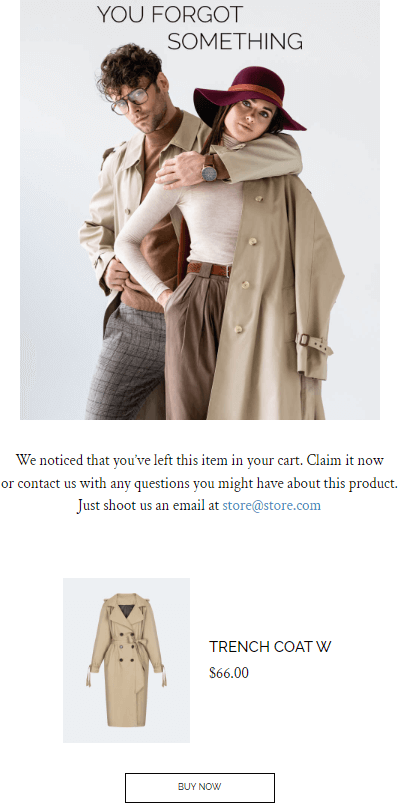 We'd recommend you send abandoned cart emails within 2 hours and in 2 days after the user abandoned their cart. To motivate your customers more, you can also send them discount coupons. 
Order Confirmation & Product Recommendations Trigger Emails 
One more effective trigger email campaign is "You may also like" or a product recommendations email. For example, you can send your subscribers an order confirmation email template and add a product grid with the most popular products.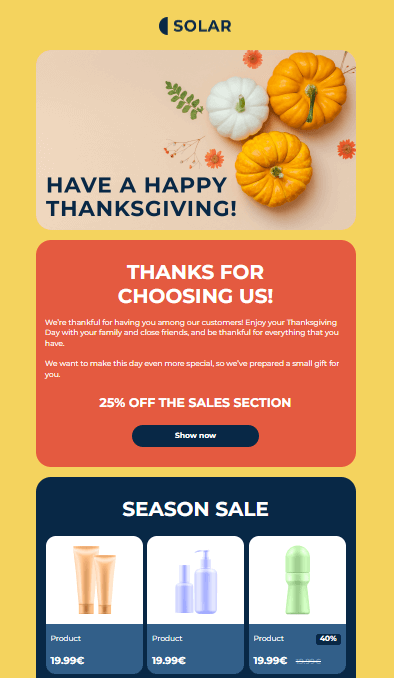 Benefits of Sending Trigger Email Templates With Blocks 
Personalization:

Trigger emails can be tailored to the subscriber's specific actions, such as making a purchase, abandoning a cart, or signing up for a newsletter. Also, include your subscriber's first name to make the email campaign more personalized. 

Timeliness:

Trigger emails are sent immediately after the subscriber takes a specific action, which makes them highly timely and relevant. For example, sending an abandoned cart email within a few hours after subscribers abandon their cart can increase the chances of completing the purchase.

Increased conversion rates:

Trigger emails are highly targeted and timely, that's why they can lead to increased conversion rates. E.g., sending a welcome email series to new subscribers can increase their chances of turning into loyal subscribers. 

Cost-effective:

Trigger emails are automated, which means they require little ongoing maintenance. This makes them a cost-effective way to engage subscribers and drive conversions. 
To make your trigger email templates even more cost-effective, use the Blocks drag-n-drop editor: our tool requires only one specialist (no designers or coders needed) and offers flexible pricing plans. 
In conclusion, trigger email templates can be a highly effective way to engage subscribers and drive conversions. By personalizing your messages, sending them in a timely manner, and tracking metrics, you can improve your email marketing campaigns and build stronger relationships with your subscribers. 
Use our trigger email templates and edit them in the Blocks editor for better results!