How to Sell Your Products or Services in Welcome Emails
A welcome email is an email that we send to subscribers at the beginning of our relationship to draw their attention and win their trust. People tend to read welcome emails more often, so we may use them to start preparing customers for purchases. Of course, you should design your welcome email templates very subtly. 
What Should Be in a Welcome Email Template
Short info on the company, its advantages

, all the necessary instructions: everything that anticipates the clients' questions and difficulties. 

A motivation to get to know you better

: you may tell subscribers about cool tips that make your product/service unique. 

Justified expectations

: if you promised to give a discount coupon after the subscription, do it.

A call to action

if you send the email to a warm audience. Everything depends on the niche: if you own a clothes shop, a CTA will be appropriate. It may look something like: "Here's your discount coupon. It'll be available for 24 hours only, so use it now!" However, if a bank offers their subscribers to get a loan in a welcome email, the readers won't get the joke. When it comes down to finance, investments, and products of a longer buying cycle, you should use welcome emails to win the client over.
Rules For a Perfect Welcome Email Template
You should start building a strong relationship with clients from the first welcome email. To do that, stick to a set of rules for a great welcome email template:
Send the first welcome email as soon as possible.

When a client gives you their email address, it means that they're really waiting for your email. So don't wait till they forgive who you are. 

Make your welcome email template catchy

: don't forget about your brand image and unique style. Add an image of a website to the welcome email: it'll help the subscribers to remember your company.

Speak the client's language:

tell the subscribers about your company in a clear, simple, and captivating way.

If you

add a poll

, keep it short (1-2 questions), don't put pressure on your subscribers, and explain why you need them to answer the questions. 

If you make

a series of welcome emails

, don't wait for too long to send the next one: the client's interest may disappear after a few days. Always check the analytics: if a client hasn't opened the first welcome email, send the same one again. If they still don't open the emails, try to figure out the reason. When your clients see that you care, it may strengthen your relationship.

If you offer a discount, give it after the client completes the subscription process. Don't share the discount coupon right on your website.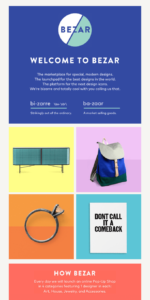 How Many Emails Should Be in a Welcome Email Series
Technically, welcome emails greet readers and thank them for the subscription. The first email in a welcome email series should always look like that. Here's a good example of a welcome email template by Bezar:
Use the second welcome email to send a poll and segment the subscribers. You may also give a discount coupon or some other nice bonus for those who complete your survey.
After that moment, your subscriber may already turn into a client. To strengthen your relationship, you may send 1-2 emails with calls to action or a special product. 
The number of emails in a welcome email series shouldn't be over four. When the clients get to know you better, start using other types of emails. 
Wrapping up
A welcome email is a good way to tell the subscriber about your company, products, or services, and start building a relationship that will last long. 
Create a catchy welcome email template in Blocks and win your subscribers over!